Our Angel's Story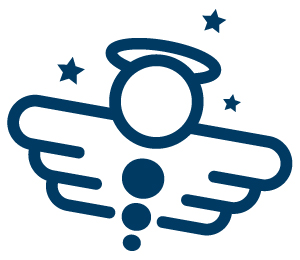 Not too long ago, we developed a new logo for our company which incorporates a stylized angel. We wanted an image to represent our company that is fun and a little whimsical, but at the same time, one that has meaning and purpose to help illustrate what we do.
We're Bible believing folks around here and in the Bible, angels were often charged with delivering important messages. They delivered these messages to specific, intended audiences for a predetermined purpose.
And…that's a little bit like what we do for our clients: We deliver their story, focused through specific and well-designed messages, often through a variety of media, to an intended audience. And our delivered messages entreat the recipients to DO something — whether it's to buy a product, support a cause, enroll in a course, vote for a candidate, save a life, learn about something new, attend a conference or meeting, listen to a sermon, pray, love a child…
To us, they are all important messages that tell a story — YOUR story.
It needs to be told well, with power, conviction and style.
That's why we're here and our angel reminds us of that every day.